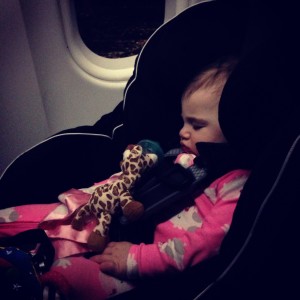 Now that we're back and mostly recovered from our trip to the East Coast, I wanted to share some tips on traveling with baby!  I fully recognize that we're still novices – the travel portions of this trip were successful mostly due to good luck and the fact that Olivia was incredibly well-behaved, slept through both red-eye flights, and didn't require any wardrobe (or diaper!!) changes.  The rest, however can be contributed to my obsessive research and planning (seriously, I spent a few sleepless nights mentally drawing out our travel strategy like a coach devising plays before a championship game). And, like I mentioned in a previous post, I totally got lots of props from hubby!
1) Avoid checking bags if you can.  I have never been a checker, and traveling with a baby, I just wanted to eliminate as many variables as possible.  Who the heck wants to wait for bags after you've just spent 5-6 hours on a plane?  We had 2 carry-on roller bags (one for O and I, one for hubby), 1 backpack (hubby's stuff and O's snacks), 1 diaper bag, 1 small purse, 1 carseat and 1 cheap umbrella stroller (gate-checked)

2) Buy a cheap umbrella stroller.  The First Years Jet umbrella stroller was $50 and perfect.  It certainly isn't the luxurious ride Olivia's used to with her UPPAbaby Vista and BOB, but after wrestling those 20+ pound beasts on a daily basis, the 11 pound Jet was so refreshing. And it gate-checked with no issues.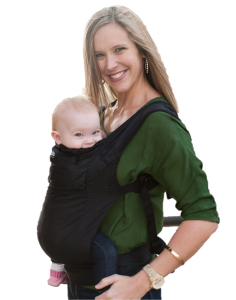 3) A carrier will make going through security so much easier! The Boba Air baby carrier is one of the best baby purchases I've made, and it's $65 very well spent.  We actually have both the Boba Air and the regular Boba 3G (very similar to an Ergo, but no newborn insert needed). I find myself using the Air more often – it's perfect for travel, warm weather and a trip to the store. Why? It's made of ultra-lightweight parachute material and folds up into its own little pouch, which makes it super portable. It also carries kids up to 55 pounds!  I think Boba needs to start throwing me a commission since I'm annoyingly enthusiastic about their products (especially the Air) and recommend them to anyone who will listen, including strangers at the airport!
4) The Traveling Toddler Car Seat Strap saved us the headache of maneuvering an unwieldy convertible car seat, and is a much cheaper option than some of the other car seat travel carts like the Go-Go Babyz.  You simply connect the LATCH hooks on the car seat to the strap as it's wrapped around your roller bag.  I know some of the photos show the baby actually riding in this contraption.  Not sure how comfortable I feel with that, though.
5) If you are able to, purchase a seat on the plane.  I don't know if Olivia would have slept for as long (and as well) as she did if she was in our arms and had a stranger in our row.  Even though you can't stow your bags under the seat during takeoff, I much prefer the first row.  While doing some research for another trip, I found that Southwest actually gives an infant discount so you don't need to pay full price for a child under 2. You just have to call them to book your tickets.
6) A Pack and Play mattress makes a huge difference at bedtime. PnPs seem pretty uncomfortable for long naps and nighttime sleep.  The Dream On Me mattress was perfect, and Olivia didn't skip a beat with her sleep routine.   Her naps were just as long, and she slept through the night, aside from a couple of teething-related wake-ups. Note: Make sure you measure your PnP because the mattresses come in a few different sizes. Of course, this only helps if you're staying with friends or family.  We ordered the Graco Pack and Play and mattress on Amazon and had them delivered there.

7) A compact, portable high chair makes for stress-free mealtimes.  The My Little Seat High Chair is about $20, folds down to the size of a diaper (!!), and slings over pretty much any dining chair. Plus, it's machine washable!  We used it for O's daily meals, unless we went out to eat (in which case we used the restaurant high chairs). Note: unless you're at a low dining table, it's unlikely that your little one will reach.  We just pulled the chair out and had O face us while we fed her.
8) Hide a couple of your baby's favorite toys and books a few days before your trip and stash them in your diaper bag.  Olivia was so exited to see her Curious George mirror book once she had settled in to her carseat on the plane that she spend the duration of the taxi cooing at herself.
9) If you are booking tickets a few months in advance, keep in mind that your baby's schedule will change.  It seems obvious, but I didn't really consider that.  We got our tickets four months in advance, and I thought red-eyes were the best option because Olivia would just sleep through them.  Fast forward four months and I was getting panicky because Olivia cannot sit still or sleep if she is busy observing and/or in a new place.  We totally lucked out when she slept through both flights AND didn't require a diaper change on either flight.
Disclosure: Posts may contain affiliate links. If you purchase a product through an affiliate link, your cost will be the same but we will automatically receive a small commission that goes straight into Olivia's piggybank. All product opinions are our own, and we do our research to only recommend the best!