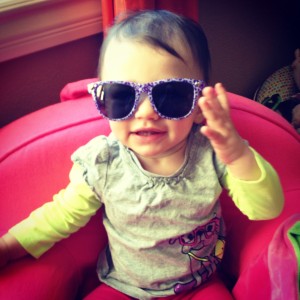 Here it is – our daily routine with a 10 month old baby! The last time I did this, Olivia was 12 weeks old and my, how things have
changed! I read back to the post when she was 3 months old and got exhausted just reading it! I did this last Saturday so you could get a sense of what a full day is like when we're both at home. Again, if you're reading this, you probably have a 10 month old, or are about to. I can't imagine who would read this level of detail otherwise, hah!
7:15 am – Wake up. Hubby gets Olivia from her room and brings her in to our bed for some snuggles and a diaper change. He gives her the book we always give her in the morning (A You're Adorable) and she says, "book", which amazes both of us. She usually wakes up around 6:45/7am, so this is a bit late for her, but it's Saturday and we're not complaining.
7:40 am – Hubby takes O downstairs and feeds her milk (she drinks 7 oz per bottle these days) while I make the bed and straighten up upstairs.
8:00 am – Hubby goes to the gym and I straighten up downstairs while O plays. I've given her a cupboard in the kitchen with all sorts of plastic bottles and Tupperware, so she empties that onto the kitchen floor while I empty the dishwasher and wipe down the counters. I also prep my breakfast (oatmeal with fresh blueberries) and coffee (I fill my Keurig reusable cup) so I can have it as soon as I put O to bed.
8:25 am – I put some music on, and O and I dance. She has the cutest little dance moves.
8:30 am – I make Olivia's breakfast: Oatmeal with mashed fresh blueberries with a side of banana pieces. We sit down at the table, and she eats. She LOVES bananas, and eats all of the oatmeal plus 3/4 of a large banana. I give her some water from her straw sippy, too.
9:00 am – We make a game out of going through her clothes to see which ones are too small.
9:30 am – It's nap time! O protests for a bit, but falls asleep a couple of minutes after I leave her room. I go downstairs to enjoy my coffee and oatmeal and browse the Internet. After I eat, I decide to organize two of the downstairs closets. It's quite a task, and I'm still at it when hubby gets back from the gym.
10:30 am – O wakes up, and hubby goes to get her. She snuggles with him for a little while.
11:00 am – O drinks her milk. We have to take a couple of breaks while she walks around. It's hard for her to sit still for long enough to finish the whole bottle, even now that she holds it herself. I still like to hold her while she drinks because its one of the only times that she sits calmly and snuggles.
11:30 am – We change Olivia into an extra cute outfit and have her 10 month photo shoot. She is harder to keep still these days, and she keeps trying to climb down from the chair we always sit her in.
12:00 pm – Hubby plays with O in the living room while I finish my closet clean-up project. It's so crazy how every corner of our place has been overtaken by baby stuff!
1:00 pm – We go grocery shopping. O sits in the cart and gets restless towards the end so Hubby holds her while we wrap up.
1:30 pm – We get home and I give Olivia her lunch. She eats a whole wheat mini bagel, and half of an Earth's Best Chicken and Stars meal (3 oz).
2:00 pm – Nap time! I catch up on emails, shower and get ready to go out.
3:30 pm – O wakes up, and I have her milk ready to go. She drinks it and we head out to enjoy the sunshine.
4:00 pm – We decide to have some drinks and tapas outside. O sits in a high chair and charms everyone around us with her baby blues! I brought her some snacks but we just let her have some of the warm flat bread they give us at the restaurant. Hubby gives her a taste of a lamb lollipop, which she actually really likes.
5:30 pm – We walk to the fro-yo place and let O try a teeny bit.
6:00 pm – We stop by the park on our way home. O loves to swing, and she pumps her legs so she can go faster!
6:30 pm – Hubby feeds O her milk, and she plays with her Zany Zoo for a bit.
7:00 pm – Hubby takes Olivia upstairs and puts her to bed. We're both exhausted!!
Disclosure: Posts may contain affiliate links. If you purchase a product through an affiliate link, your cost will be the same but we will automatically receive a small commission that goes straight into Olivia's piggybank. All product opinions are our own, and we do our research to only recommend the best!