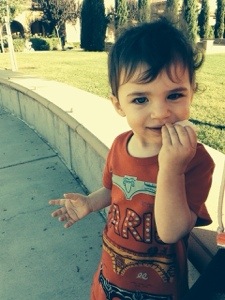 We took a quick overnight trip to our friends' place this weekend, and although we were so nervous about Olivia waking up throughout the night the way she did the first night of our vacation a few months ago, she slept really well!  The trick to getting her to sleep through the night in an unfamiliar environment was to arrive early enough that she could nap there first.  That way, at bedtime, she was already used to her surroundings. That's our theory, at least 🙂
This week, Olivia:
Finished her morning bottle of milk, said "all gone" and brought it to the sink
Responded "work" when we asked her where daddy was going on Monday
Puts the shapes in the shape sorter in her Fisher Price Learning Home, and says "good girl" when she gets them in correctly
Completed the sentence, "we might see some doggies today when we go to the ___"
Says "woooow" when she sees something she finds interesting or impressive
Pretended to feed her Babicorolle doll a bottle when I asked her if she could give the baby some milk
Tries to put her bib on/puts her bib on her head and calls it a hat, hah!
Says "good" after she tastes something she likes
Loves raspberries
Tried bacon and loved it! She insisted on holding one piece in each hand as she nibbled.
Went for her first hike!  Our Boba Air came in really handy, even though she insisted on getting down to explore towards the end of the hike.
Played with our friends' dogs, told them she loves them and gave them a kiss through the glass door. She also picked up their food and tried to feed them through the glass. It was so precious!
Disclosure: Posts may contain affiliate links. If you purchase a product through an affiliate link, your cost will be the same but we will automatically receive a small commission that goes straight into Olivia's piggybank. All product opinions are our own, and we do our research to only recommend the best!