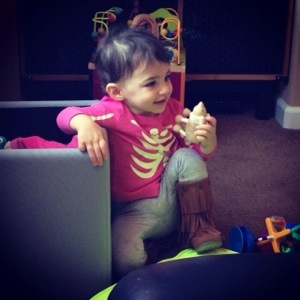 Ahh, Wonder Week 64.  I got the Wonder Weeks alert email in my inbox and was struck by how uncanny the descriptions were: "Playing with emotions by practicing all sorts of behavior and facial expressions from sad to happy and sweet / Only eats properly if she can feed herself / Replays daily domestic routines / Throws temper tantrums in order to get her way." Yep, that about sums up this week!  Olivia has been extra feisty, and not as laid back as she usually is. She's been really picky about solids and hasn't been eating as much as she normally does.  She also started chewing on books and toys again, which makes me think she's teething.
This week, Olivia:
Can tell a "story" about what she did during the day : "walk, park, doggy, ball"
Loves to explore the outdoors, and throw her ball around in the park.  She's also very social when she comes across other children, animals or adults.  She'll usually talk to them by saying,"Hi", "shoes", "hair" or "watch" depending on what she notices about them.
Really likes her First Book of Sushi book, and requests we read it multiple times at bedtime
Took some getting used to her new shoes; refused to put them on at first because they were different from the Toms she's used to wearing
Likes to hold my keys and says "keys"
Still really dislikes diaper changes unless I mentally prep her by showing her a diaper and wipes a couple of minutes before I change her
Says "happy" and "sad" and makes the appropriate faces
Added to her animal sound vocabulary with the help of her Fisher-Price Farm Animal toy. She now also recognizes pigs and ducks, and the sounds they make
Can recognize different kinds of hats on herself, her dolls, and others
Points to herself and says "baby"
Says "pillow"
Stopped squinting, much to our relief
Incoming search terms:
wonder weeks 14 months
14 month wonder week
wonder week 14
when does wonder week 64 start
Disclosure: Posts may contain affiliate links. If you purchase a product through an affiliate link, your cost will be the same but we will automatically receive a small commission that goes straight into Olivia's piggybank. All product opinions are our own, and we do our research to only recommend the best!