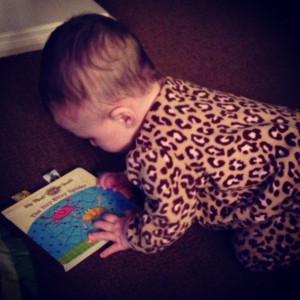 This week, Oliva:
Officially started crawling on January 9, a few days shy of her 6 month birthday!
Ate avocado and didn't really like it.  We'll try again soon!
Loves watching me do stuff around the kitchen – putting dishes away, washing bottles – it's all so fascinating!
Is obsessed with her Fisher Price Remote and her Itsy Bitsy Spider Taggies book.
Started squirming like crazy any time she's being changed.
Wonder Week 26 came like clockwork this week (once again). Olivia was very fussy at the beginning of the week – she woke up frequently during her naps, and was generally whiny unless she was being held and in a state of constant motion.  This stormy period passed fairly quickly, and clearly coincided with O's crawling proficiency.  For more on Wonder Weeks, click here.
Disclosure: Posts may contain affiliate links. If you purchase a product through an affiliate link, your cost will be the same but we will automatically receive a small commission that goes straight into Olivia's piggybank. All product opinions are our own, and we do our research to only recommend the best!