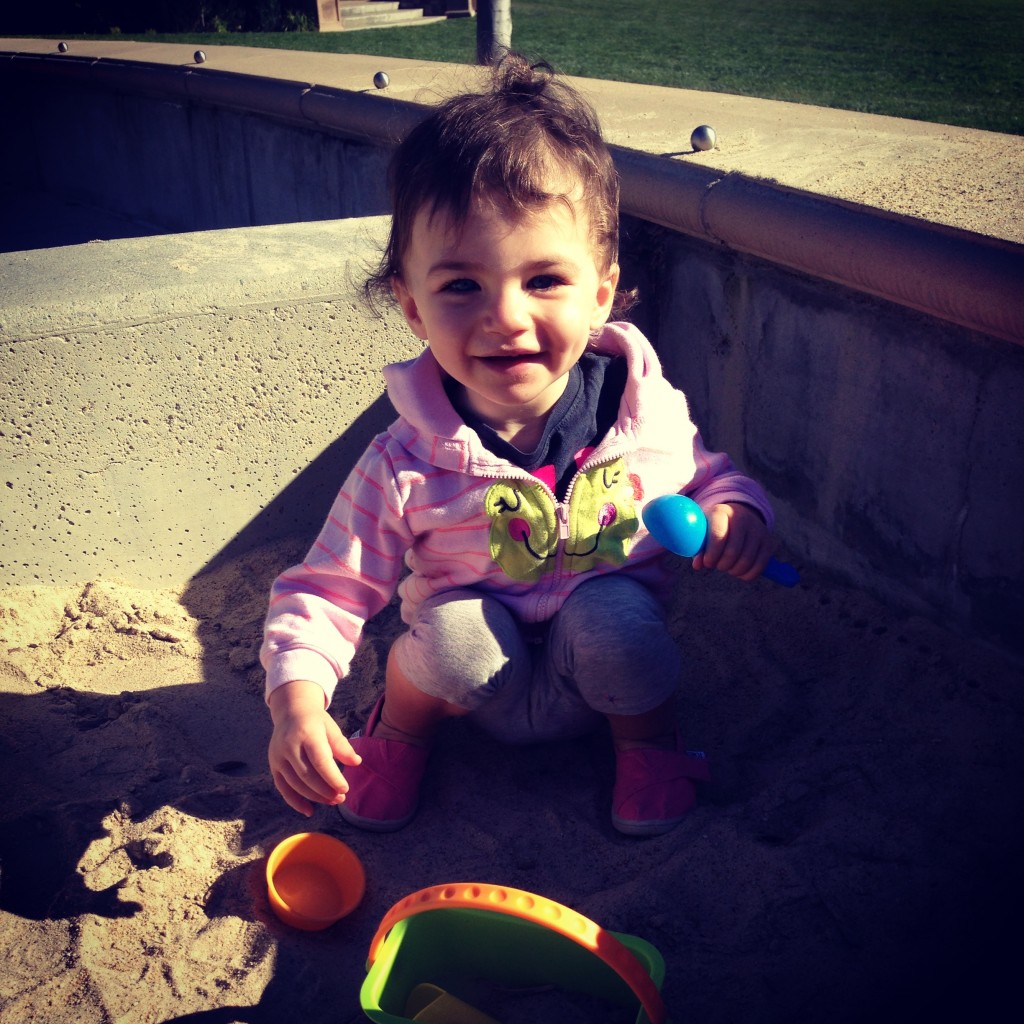 This week, Olivia had her first fever, which reached 103.8 and lasted for a day.  Surprisingly, she acted pretty normal, just a little less rambunctious than usual, and her naps were longer.  O was not a big fan of being poked and prodded, though, so I was really glad to have the temporal artery thermometer
 – it's way easier to get a quick read on a squirmy toddler versus the traditional under-arm one.  The on-call nurse at our doctor's office told me that her fever was too high to be teething-related, but I took a peek in her mouth and saw both bottom canines and bottom right first molar starting to peek through.  The next day, although her fever was completely gone, she woke up from her nap and acted the exact same way she did a while back (that time, we took her to the doctor, who thought it was teething).  My poor sweetie woke up crying (which she never does) and kept bursting into tears, refused her cup of milk and her snack.  After half an hour of snuggles and tears, I asked her if she'd like to go for a walk, and she seemed to like the idea.  We went to the park and played in the sandbox, and pretty soon she started smiling and going for my bag, saying "milk".  My baby was back!
Also this week, Olivia:
Is extra cuddly. She likes to lean in for a spontaneous kiss and also hugs her stuffed animals and says, "Aww"
Started arranging the small decorative pillows and her play kitchen phone in a little nook behind the couch, presumably so she can have long chats with her bestie
Still loves dragging said pillows around the room until she finds a good spot, lays a pillow down, and rests her head on it
Points to her toes and knees
Says "oh yeah" "what" "okay" and gets a big kick when I say "okey dokey" and "oy"
Can kick a soccer ball and plays with the mini basketball by throwing it around the room
Plays peekaboo with her Monchhichi doll by lifting its little bib over its face and then quickly pulling it down and yelling, "Boo"
Took my hands and clapped them for me
Asks to go for a walk
Can flip the lid to her water cup open so she can sip from the straw
Disclosure: Posts may contain affiliate links. If you purchase a product through an affiliate link, your cost will be the same but we will automatically receive a small commission that goes straight into Olivia's piggybank. All product opinions are our own, and we do our research to only recommend the best!