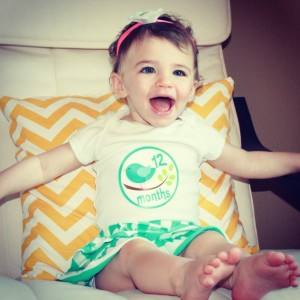 Olivia's birthday was this week, and even though we celebrated with a party last weekend, we had to do something special on her actual day! So, we went to the zoo with grandma and grandpa, who visited us for the weekend. O liked the goats, tortoises and the baboons the best (she is a monkey nut in general, and has been doing the monkey sound for a couple of months now). I loved the mommy and baby baboons, too.  The little one was so cute and mischievous, it reminded me of O 🙂
We also enjoyed playing with all of Olivia's new birthday toys this week.  It's amazing how quickly she grasps new concepts.  In addition to the KidKraft Vintage Kitchen we got her, she got this wonderful (but HUGE) Fisher Price Learning Home
 from my parents.  She loves ringing the doorbell, opening and closing the window, crawling through the door, and getting the mail. If you have the space, this toy is really fantastic (don't just take my word for it; it has hundreds of reviews and five stars on Amazon!).  My parents clearly did their research!  She also got a couple of puzzles that she is loving: Melissa & Doug Caterpillar Gear Toy and the Jumbo Knob Farm Puzzle. Melissa & Doug toys are so well made, and I there's just something about wooden toys that is really refreshing – and I feel like they're automatically educational, hah!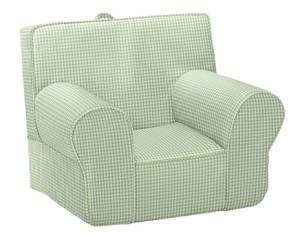 As you probably know by now, Olivia is really, really into books, so she received a few more to add to her collection: I Want My Hat Back (gorgeous drawings, great story), Happy Birthday, Baby (an interactive Dr. Seuss book, super cute) and Dickie V's ABCs and 1-2-3s (it's "AWESOME, BABY" and perfect for our little basketball fan).  Aaaand, her new, personalized Pottery Barn Anywhere Chair from our BFFs is now her favorite reading spot.
This week, Olivia:
Can repeat "I love you"! She says "I la loo" and it's so incredibly cute
Also says thank you ("gan goo"), good girl ("goo ga") and brush
Pulls our hair (and her own) and says "ach" for ouch
Tries to brush her hair
Can open a container
Can give tickles
Gently pinches our arms when we hold her (I love this and hope she doesn't start to pinch hard anytime soon)
Ate peanut butter for the first time (lightly spread on a blueberry Kashi waffle)
Is still frightened by this book
Disclosure: Posts may contain affiliate links. If you purchase a product through an affiliate link, your cost will be the same but we will automatically receive a small commission that goes straight into Olivia's piggybank. All product opinions are our own, and we do our research to only recommend the best!