The fussy period preceding Wonder Week 55 is upon us, and we've definitely noticed some changes in Olivia's behavior. Now, if you haven't been following along (or maybe you have, but need a refresher) I have a post dedicated to outlining the Wonder Weeks developmental milestones here.  The Wonder Week 55 fussy period starts at around Week 50 and is supposed to last anywhere from 3 to 6 weeks. At the end of this period, new skills emerge, specifically related to baby's ability to follow through on a sequence of events!
Olivia has had a couple of cranky episodes and is more temperamental now.  She yells whenever she's frustrated and clings to us quite a bit, which is so unusual considering she's typically very independent! She's especially all about daddy these days, and clings to his neck and cries if he tries to put her down and she's not ready.  She also has a fake cry she breaks out once in a while.  On the flip side, Olivia is also acting extra sweet and cuddly.  The highlight of my week was when she jumped into my arms after not seeing me for a few hours, pointed at me and said "mama" and then gave me a huge kiss. I'm still swooning! For hubby, it was one evening right before it was time to take her up to bed.  She just nestled herself in the nook of his arm and snuggled with him for about 10 minutes! And she is not usually one for snuggling or sitting still for too long.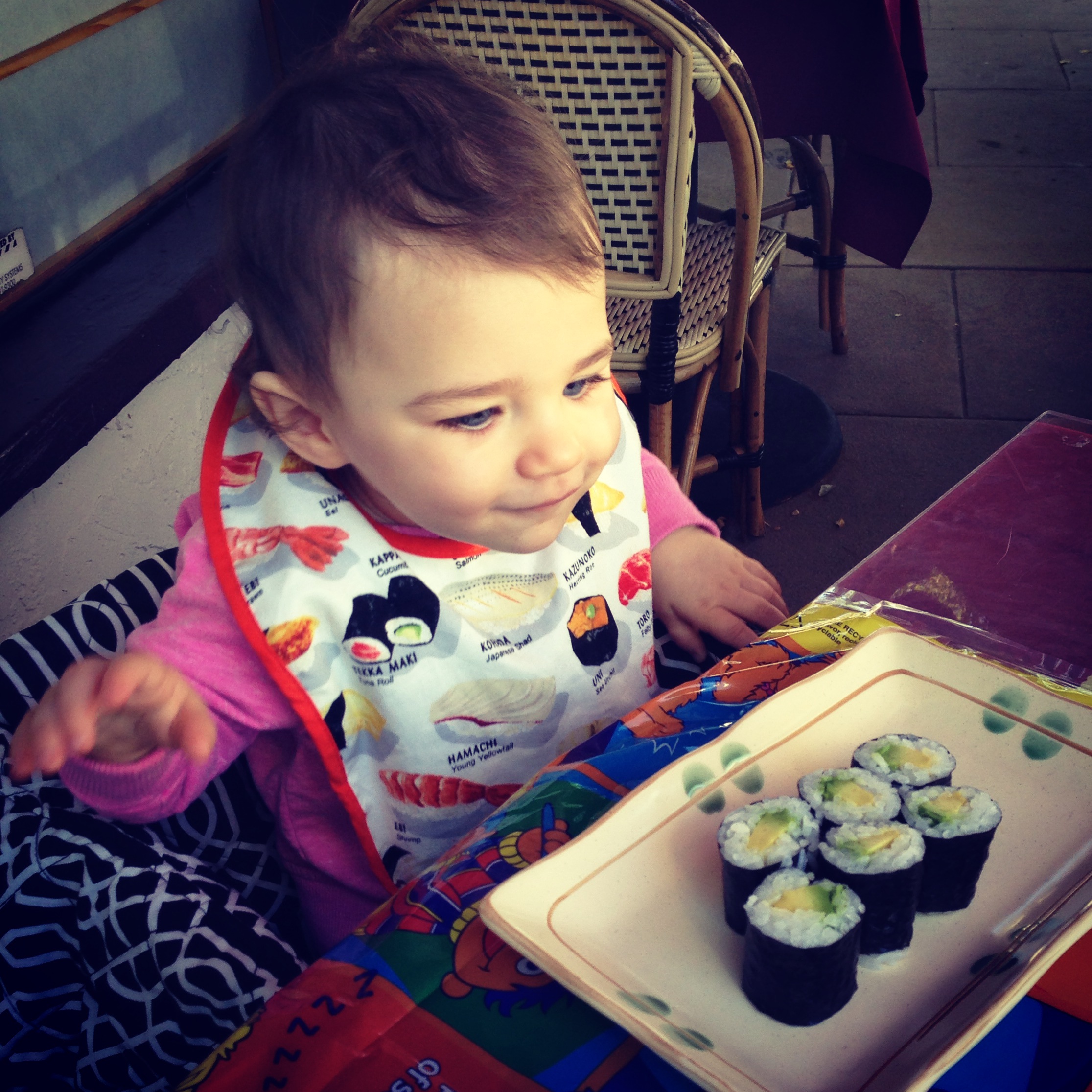 This week, Olivia:
Tried sushi for the first time! I just had to link to the video on our instagram feed because the way she says "mmm, mmm" is too cute! She totally loved her avocado roll, and now we're on the hunt for more rolls to try.  Next up: California and shiitake.
Also ate grilled salmon and homemade mac and cheese for the first time, in addition to her first Cocoa Puff (after I accidentally spilled almost the
whole box on the kitchen floor!).  We've been lucky – she has really liked everything we've given her so far.
Says "Coco" when she finds her Coco books.  Have I mentioned how much I love these?  They're cute and quirky and a great way to get an early start on practicing our alphabet (C is for Coco) and numbers (Coco Counts).
Played with our neighbor's dog and was loving chasing him around her house, stroking his tail and giggling. She even grabbed his nose at one point, and he was a great sport.  I'm bummed that I didn't get a better picture, but I still wanted to post it.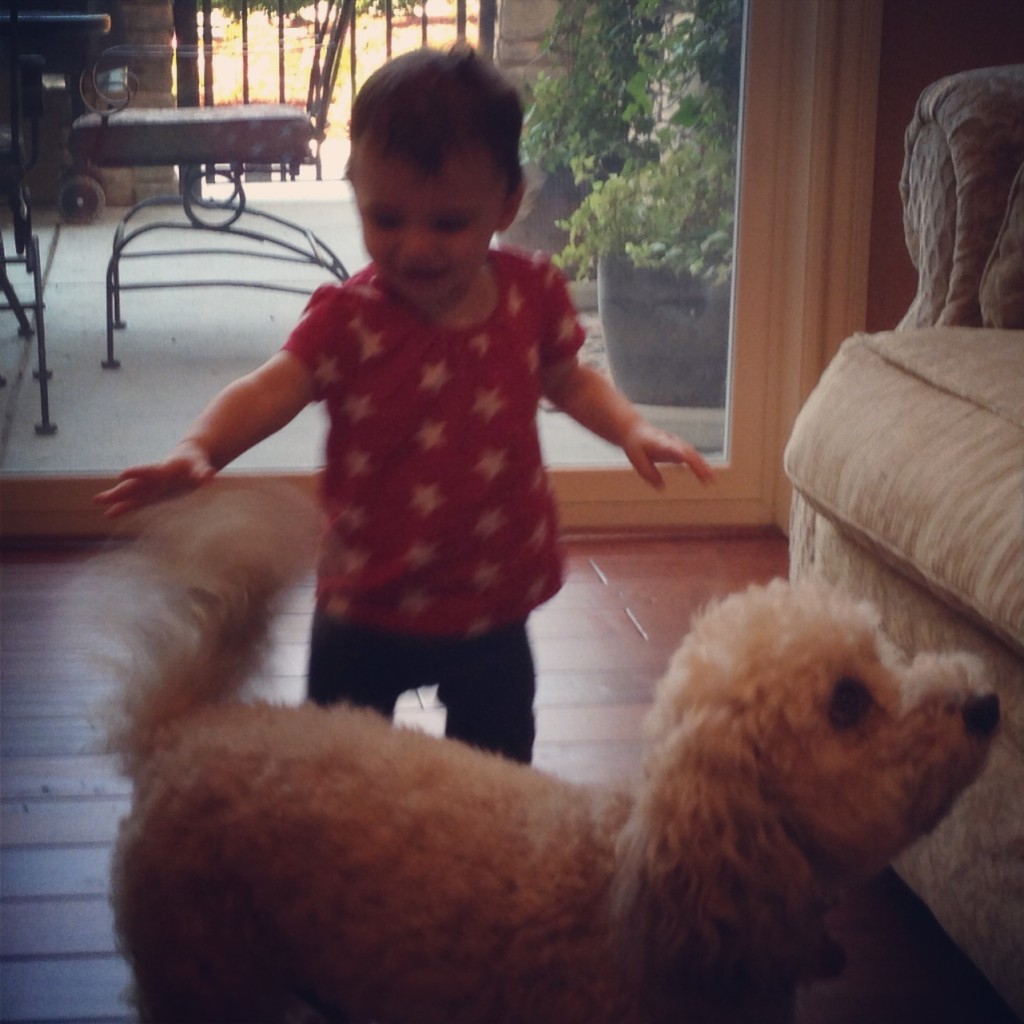 Celebrated her first Fourth of July!  Although we didn't watch fireworks since I'm kind of a stickler about O's 7pm bedtime, we met up with our BFF (best friend family, hah!) for brunch, and O even had some ice cream!
Is way better at sitting still for diaper changes since hubby has started letting her know they're coming. He says "I'm going to change your diaper now" and she even says "datch" (an abbreviation of diaper change?!) and points to the diaper she's wearing.
Took longer naps (1 hour and 45 minutes, twice a day), perhaps due to a physical growth spurt – she seems to have gotten taller! Smacks things or bats her hands when she's unhappy.
Has two different yells – one to signify excitement (it's more like a squeal) and another when she's frustrated.
Helps us get her dressed – will lift her feet or her arms into her clothes.
Makes a distinct "heh" sound when asked a question.
Is walking backwards.
Incoming search terms:
Disclosure: Posts may contain affiliate links. If you purchase a product through an affiliate link, your cost will be the same but we will automatically receive a small commission that goes straight into Olivia's piggybank. All product opinions are our own, and we do our research to only recommend the best!