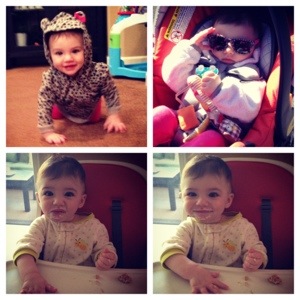 This week, Olivia:
Started eating mini waffles. She really loves feeding herself.
Ate plain yogurt, and didn't like it, until I started mushing in ripe banana.
Is getting better at drinking from her bottle, and can even hold it with one hand (she still loves rubbing her hair with the other).
Started getting fussy in her stroller. Maybe fussy is an understatement. We went to the park to play in the grass again and when we were ready to head home, O started whining and crying and arching her back when I tried to put her in the stroller. I had to carry her home. Maybe she didn't want to stop playing? She seems less fond of the stroller (and carseat) in general, though.
Started a 2-3-4 sleep routine and it made a huge difference with her naps.
Had her follow-up flu shot and did really well.
Is definitely saying "dada". Or rather, "ah-da-da." She hasn't put it together yet what the sound means when she makes it, but if you ask her where dada is, she will look at hubby. It's so incredibly sweet.
Is actively lifting the flaps on her Pop Up Peek-a-boo book and getting amused. For some reason, that really blows me away, since each of the flaps open in different directions.
Is also starting to choose books that she wants to read.
Disclosure: Posts may contain affiliate links. If you purchase a product through an affiliate link, your cost will be the same but we will automatically receive a small commission that goes straight into Olivia's piggybank. All product opinions are our own, and we do our research to only recommend the best!