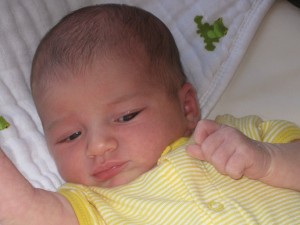 There must be some word to describe the phenomenon that takes place when you've finally quieted down the baby and slowly climbed into bed, holding your breath, waiting for the crying to start up again and hoping it doesn't. A few minutes go by, you get comfortable and you're thinking, "Ok, maybe this will be it – I can finally sleep." Aaaand the crying starts again.
I'm not sure why, but I was under the impression that babies didn't cry so much. Olivia is great during the day, but so far there have been a couple of nights of straight cry – feed – repeat.
One of the many things I've learned two weeks in to having a newborn is, as much as you may break down during the night, wondering why your baby is crying and questioning your parenting skills and your ability to feed her, everything is always better come daylight.
Disclosure: Posts may contain affiliate links. If you purchase a product through an affiliate link, your cost will be the same but we will automatically receive a small commission that goes straight into Olivia's piggybank. All product opinions are our own, and we do our research to only recommend the best!