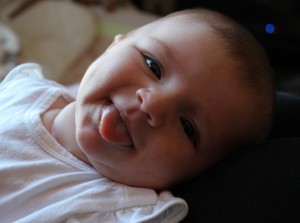 This week, Olivia was extra fussy and very clingy at night. One late night in particular, she fell asleep on my chest after eating. When hubby tried to gently pick her up – she was in a deep sleep, mind you – she started screaming a scream we'd never heard before, which is SO unlike her. The scream really frightened me, so I started doing research and came across the Wonder Weeks. Just as babies go through physical growth spurts, they also experience developmental ones. Wonder Week 8 is when babies discover patterns in the world around them. They become especially fussy and clingy (!), but at the end of this period they start to display new skills! Read my post outlining all Wonder Weeks here.
It also seems like her Moro reflex has gotten worse at 8 weeks. Could that be possible?? She startles herself awake more often, particularly in her bassinet at night. She doesn't have any trouble at nap time, but then again she sleeps in either the bassinet attached to her playard or her Snugabunny swing, which both have sides that kind of envelop her.
She's also taken to practicing kicking super hard in the morning. Typically, she'll sleep from 9/9:30pm – 2am, eat, sleep from 2:30am – 3:30am, then intermittently until 5:30am or so. During that period, she alternates between grunting, kicking and crying. I think most of it is gas, and it sounds like grunting is pretty common in newborns. Apparently there's something called Grunting Baby Syndrome (good article/explanation here), which is harmless, requires no intervention, and sounds more "normal" than "syndrome" since baby's digestive system needs more time to develop at this point.
On a positive note, Olivia has been making noises and sounds we haven't heard before. She even "sang" us a song one day (more like a very prolonged coo). She's taken a liking to licking whatever surface she happens to be on during tummy time, and has started finding and sucking her hands again (after a brief hiatus in week 7).
Incoming search terms:
wonder week 19 sleep regression
Disclosure: Posts may contain affiliate links. If you purchase a product through an affiliate link, your cost will be the same but we will automatically receive a small commission that goes straight into Olivia's piggybank. All product opinions are our own, and we do our research to only recommend the best!