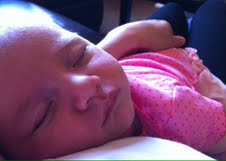 Olivia's personality is definitely starting to shine through as she starts to develop preferences.  She absolutely loves being washed, changed (especially by daddy), bird sounds, and looking out the window (especially while sitting in her Snugabunny
 swing).  She has smiled the sweetest smiles in her sleep for a while now, but we think shes thrown a handful of social smiles our way.  Physically, she has found her thumb, although it's still difficult to get it in her mouth all the time – so she winds up sucking whatever part if her hand makes it to her mouth.  Her neck is super strong; she's been lifting it and moving her head from side to side while on her tummy for a week now.
O. has had a SERIOUS gas problem lately; crying in her sleep, startling herself awake, farting and falling back asleep a few times during the night.  I literally spent the equivalent of a work day today trying to help her poop.  Finally, I reached out to my Facebook mommy group members for some advice, and wound up putting a warm compress on her tummy.  Within 20 minutes, we had success!
As a mom, I don't know which was worse to watch – the bilirubin blood draws she had in the first couple of weeks or her getting her Hep B #2 shot this week.  When she got the shot, her face looked shocked at first, then pained, and then came a really blood-curdling cry.  It was almost as though she was saying, "Mom, you're supposed to be protecting me, and here you are allowing someone to hurt me."  Scary!
Disclosure: Posts may contain affiliate links. If you purchase a product through an affiliate link, your cost will be the same but we will automatically receive a small commission that goes straight into Olivia's piggybank. All product opinions are our own, and we do our research to only recommend the best!