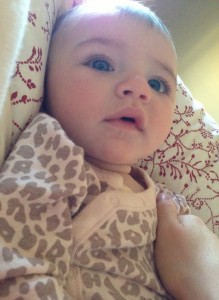 Why do I feel like our updates have been the same for weeks? Maybe because this Wonder Week 19 / 4 month sleep regression / wakeful period feels like it has lasted forever. Well, this week Olivia's sleep was decent (as in, waking twice vs. hourly), but her naps were super short once again (averaging 2.5 hours of nap time). She had a couple of days in the beginning of the week where she was fussy like I've never seen her before – really over-tired, clingy and whiny, and she basically lived in the Moby wrap. In fact, she took some of her best naps in the Moby. Aside from that and falling asleep in our arms, the only other way we could get her to nap was swaddle+oven vent fan+paci+swing. I'm convinced she just really doesn't want to miss out on any action!
It seemed impossible for her to be more observant than she already is, but she was so easily distracted by everything
this week that it was really hard to get her to finish her food. Her new favorite game is holding the bottle and bringing it to her mouth, then quickly pulling it away, repeat. She also loves chewing the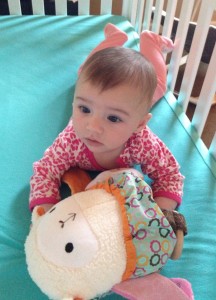 bottle nipple with the right side of mouth. Hubby bought her this teething toy, which she seems to enjoy immensely, probably because it's a ball of nipples!!
Olivia succeeded in rolling over from her back to her tummy on her left side this week (she's been rolling to the right since around 12 weeks) and she even rolled from her tummy to her back a couple of times!! She's a bit hung up because she thinks the best way to do it is by sticking her butt in the air and then using the weight of it to roll over vs. lifting herself up on her arms and using the weight of her head. It's okay, she'll get there!
Disclosure: Posts may contain affiliate links. If you purchase a product through an affiliate link, your cost will be the same but we will automatically receive a small commission that goes straight into Olivia's piggybank. All product opinions are our own, and we do our research to only recommend the best!