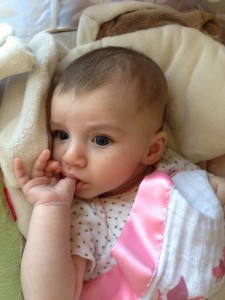 This week, we continued the "hands" theme from Week 12. Last week, Olivia was starting to grab toys, her bottle, and anything she could get her hands on. In Week 13, it seems like she spent every waking moment working on getting her thumb in her mouth and examining her hands. Actually, the more I think about it, this week was all about discovering her hands so she can use them to put more stuff in her mouth!  She has been more successful at sucking her thumb vs. other random fingers, and gets really frustrated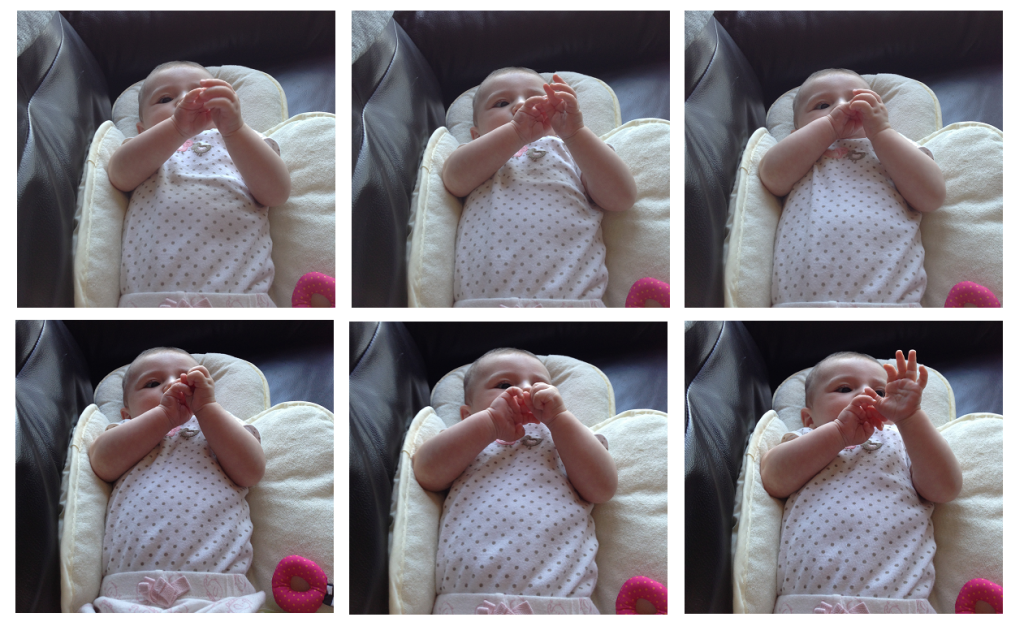 when she can't get her fingers to her mouth, but I see her slowly realizing and coordinating. It was truly incredible witnessing O discovering her hands for the first time. I'll let the pictures speak for themselves.
When she's sleepy, Olivia rubs the back of her head with her left hand, and her forehead with her right. Her favorite sleeping position when she breaks out of her swaddle or sleeps in her swing is with both arms back behind her head.
I think her 12 week growth spurt has passed, but her sleep is still inconsistent.  O continued to wake twice a night (around 1 am and 4am) for most of the week, but gave us a break one day with a six-hour stretch.  I am soooo looking forward to being back on that schedule.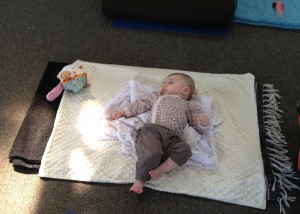 As for activities, it was a busy week!  We went to post-natal yoga and hung out with the mommies and babies afterwards, and had a family double date at the pumpkin patch!  I suppose at this age, the pumpkin patch is more of a photo-op, but I really think Olivia enjoyed it – the bright colors, all the kids running around, watching the pony rides, and hanging with her BFF Olive, of course!
Disclosure: Posts may contain affiliate links. If you purchase a product through an affiliate link, your cost will be the same but we will automatically receive a small commission that goes straight into Olivia's piggybank. All product opinions are our own, and we do our research to only recommend the best!