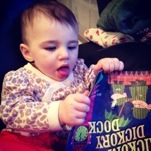 I've been hearing about Indestructibles books from my mommy groups for a while, and since Olivia loves books (and eating them), I decided to order three of them to start out. Indestructibles books are tear resistant, waterproof and totally safe for baby to gnaw on.
At first glance, they really threw me off. I thought they would be way more substantial, like really heavy cardboard. Good thing they're not, because we all know what happens when baby starts sucking on the corners of a board book! I was also surprised the pages didn't have any text (turns out the nursery rhymes were on the back cover).
That said, the illustrations are beautiful, and since Olivia loves playing with paper and putting stuff in her mouth, she grabbed it out of my hands and immediately started going to town on it. It looked like fun, so I decided to try it out as well, which O got a huge kick out of!! Hey, I wanted to get the full experience! Indestructibles are also perfect at bath time, since they're able to distract Olivia from her new favorite hobby – trying to climb out of the tub! So far, they've really held up to their promise, as hard as we've tried to destruct them.
I definitely recommend getting a few of these. They won't be "cuddle up story time" books, but your little one will have so much fun with them! This, to me, is right up there with the Taggies books and blankets in terms of figuring out what babies love to play with (crinkly paper, tags) and coming up with a great solution!
Disclosure: Posts may contain affiliate links. If you purchase a product through an affiliate link, your cost will be the same but we will automatically receive a small commission that goes straight into Olivia's piggybank. All product opinions are our own, and we do our research to only recommend the best!