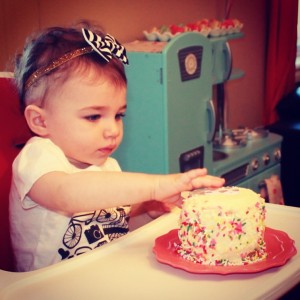 You guys didn't think I'd miss posting highlights from Week 52, did you?! Between O's party and family visiting, I've just been a tad behind.
It was difficult to tell whether the Wonder Week 55 stormy period passed, because O was a bit out of sorts toward the end of the week, most likely due to all of the birthday excitement and slightly later bedtimes.  She definitely had moments of extra daddy clinginess and fussiness, though.
This week, Olivia:

Had her first birthday party! I posted all of the theme details here, but some of the highlights include O spending time with her grandparents who flew in for her birthday weekend, being a model hostess and sharing her toys with her two friends, going absolutely bonkers over all of the balloons in the house ("bagoo! bagoo!"), listening patiently as we gathered around her and sang "Happy Birthday", eating the sprinkles off of her smash cake so daintily – one by one – that there was hardly a dent in the cake AND absolutely loving all of the presents she received.
Transitioned to cow's milk. Yep, no more Dr. Brown's Formula Mixing Pitcher
for us! I'm planning on writing a separate post to share all of the details with you.
Can follow instructions (get remote, bring to daddy and get toy, bring to mommy).
Picks up the phone on her toy kitchen and hands it to us.
Is better at talking on the real phone. She puts it down on the floor and crouches over it to talk.
Says "puc" for cup.
Disclosure: Posts may contain affiliate links. If you purchase a product through an affiliate link, your cost will be the same but we will automatically receive a small commission that goes straight into Olivia's piggybank. All product opinions are our own, and we do our research to only recommend the best!