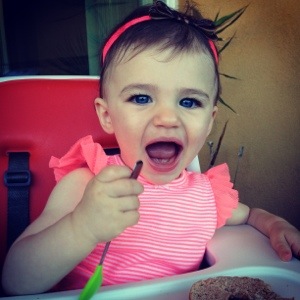 This week, Olivia:
Got scared going in the pool and refused to go in her float. She wound up clinging to daddy the entire time she was in there.
 Is back to letting us read books to her (sort of). For the last month or so, she's been very independent with her books, and has had little patience for sitting down and paying attention when we read to her. She would typically grab the book and go off in her own spot to read it. Now, if we ask her to pick a book, she will choose one from her book pile, bring it over to us and – if it's one she really likes – she'll sit and pay attention. Lately, her favorite is King Bidgood's in the Bathtub, which was a gift from a dear friend.
Says "ilk" (milk) when she wakes up, and when she sees us preparing her bottle.
Says "uh-oh" when she drops something.
Loves balloons and has a special way of saying "balloon" that's always more like an excited yell – "bagooo". She was totally beside herself when she saw some at Old Navy, and we grabbed her one and let her hold it in the store even though I was so nervous that it would pop in her face!
Says "bagooball" whenever she finds the remote laying around. It makes sense; basketball is pretty much the only thing she sees on TV 🙂
Wags her finger when she starts to do something she's not supposed to – without us even saying anything!
Says "up" when we pick her up
Tries to imitate other kids by using a higher-pitched voice
Tries to feed us her bottle
Sorts objects of similar shape
Gets a really big kick out of her Farmer Says toy.  It's such an old school toy, but she's starting to recognize more of the animals and loves trying to imitate the sounds.  She thinks the neigh is particularly funny for some reason.
Disclosure: Posts may contain affiliate links. If you purchase a product through an affiliate link, your cost will be the same but we will automatically receive a small commission that goes straight into Olivia's piggybank. All product opinions are our own, and we do our research to only recommend the best!