Grilled Shrimp and Quinoa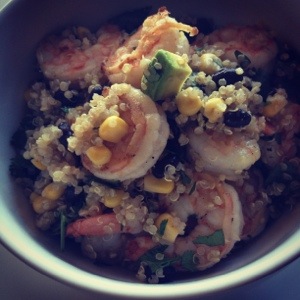 2 tablespoon olive oil
½ onion, chopped
4 cloves garlic, crushed
1 cup uncooked quinoa
2 cups chicken or vegetable broth
1 teaspoon cumin
salt and pepper to taste
1 cup canned corn kernels
1 can black beans
2lb large shrimp, de-veined and de-shelled
1 cup chopped fresh cilantro
1 avocado, small cubes
1 lime
Place shrimp in large bowl and add 1 tablespoon of olive oil, 2 cloves of crushed garlic, salt and pepper
Refrigerate until ready to grill or sauté
Sauté onion and 2 cloves of crushed garlic in 1 tablespoon of olive oil in large sauté pan until translucent.
Mix quinoa into the pan and cover with broth. Season with cumin, salt, and pepper.
Bring the mixture to a boil. Cover, reduce heat, and simmer 20 minutes or until quinoa is translucent.
Stir corn and black beans into the pan, and continue to simmer until heated through.
Grill the shrimp, or sauté them in a separate pan.
Toss quinoa and cooked shrimp in large serving bowl.
Stir cilantro and cubed avocado into serving bowl. Before serving, squeeze fresh lime juice on top.
Recipe by
Who's That Mom?
at http://www.whosthatmom.com/grilled-shrimp-and-quinoa-recipe/